B2B Content marketing– A beginner's guide
Published by
Ethosh
on Jul 27, 2022.
Excite, engage and educate customers with content marketing. Learn about how you can satisfy customers' need for information at every stage of the journey.
Did you know that B2B buyers spend 27% of their consideration(1) time doing research online ? So, if you have content for them to view at this stage, half the job is done. This content could be in the form of webinars, infographics, a video, or even a display ad offering a discount; it must be something that meets their need for information. Follow this up with a steady stream of quality content to keep them engaged and to give a gentle push towards conversion. This is content marketing in simple words.
Content marketing has gained significant importance over some time now and is quite critical to your digital marketing initiatives. So, let's get into what content marketing is, how it can benefit you as a marketer, and what possibilities you can explore.
What is content marketing?
Content Marketing is developing content that attracts the audience, encourages them to engage, and eventually helps drive sales. Right content, aptly designed for a given audience, will give them a little nudge to take action.
Content for every stage of the buyer journey (Awareness, Consideration, Decision) will be different as the needs are different. B2B marketers(2) say that more than half of their content marketing is for the top and middle of the funnel. There needs to be a content strategy for all stages of buying funnel.
See how content marketing is helping businesses in many ways
The top three goals(3) B2B marketers feel content marketing helps them achieve are – creating awareness, building credibility/trust, and educating the audience. Moreover, it can be used at every stage of the customer journey.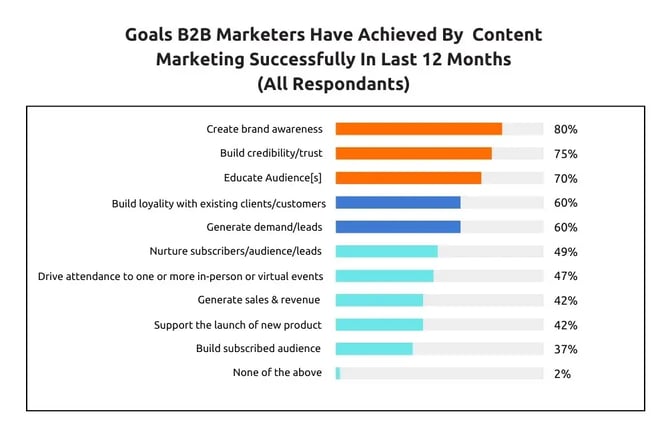 Source: Content Marketing Institute
Take a look at how it can benefit your business.
Create brand awareness

–

This is the essential goal you can achieve with content marketing, especially during the awareness stage of the customer journey. If you have valuable content offerings (videos, webinars, virtual events, blogs, infographics), your chances of being recognized as a player and then a leader in the industry are bound to increase.
Build trust

-

When your content is credible and valuable to the audience, they start trusting your brand. For example, if you are a lab equipment manufacturer, you could regularly post videos of SOPs, best practices, and instrument maintenance for lab owners and researchers to see. You could conduct webinars on the same. This showcases your brand as responsible and credible.

Increase visibility on social media

–

A large amount of data is freshly added to social media every day. Consistent activity on a social media platform where the target audience is present helps to increase visibility. Alternate posts of product promotions and other non-promotional content will lead to wholesome messaging and will help you get a unique position on social media.

Increase visibility on the internet

–

As you publish good content, your content could be referred by bloggers. If your content is a press release, it could be picked up by news sites. If it is an exciting video or infographic, it will get shared through mobile devices. All these contribute to increasing visibility on the internet. With SEO optimization, your content will get a higher ranking, which again means better visibility.

Get better leads

–

Quality content can help take audiences to the information you want them to see. For this, you need captivating content and CTA. While the content for awareness, consideration, and decision stage will be different, they must all be bound by a purpose and fit together to look consistent. That's when you will get more relevant or quality leads.

Engage audience consistently

–

By utilizing various content formats, you can consistently engage with audiences and create a brand image that sticks. The top four content formats(4) marketers use are - videos, blogs, images, and infographics. You could also use quizzes, polls, GIFs, etc.
When Ethosh launched a digital marketing campaign for a reputed industrial product manufacturer with compelling content, we were able to increase engagement on social media by 50% in 6 months!
The point is that the more your content is available for them to see and utilize, the more it benefits your brand and strengthens its position.
Content types for B2B marketing
With content marketing, the idea is to bring your messaging in front of the audiences in various formats. This is because the content will be viewed by people with different attributes and on separate platforms. So, while an infographic can serve an explicit need on a SERP, an exciting video can capture the audience's attention when they may not be expecting it. Strategy-wise, businesses are choosing storytelling in the messaging.
Take a look at the commonly used content types.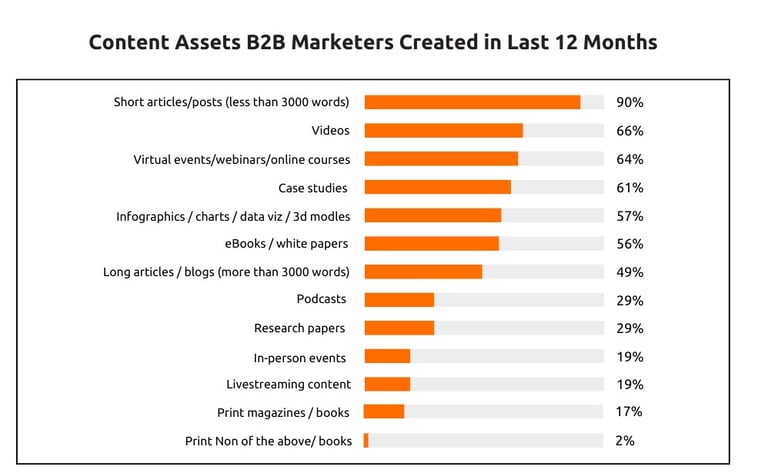 Source: Content Marketing Institute
See how you can employ them too.
Blogs

–

This is a great way of showing expertise and sharing useful insights, especially for those in the awareness stage. When audiences are looking for specific information, they will use certain keywords while searching. If your blog includes the keywords, your page will rank higher and be easily seen by the audience. A quality blog will be referred by other bloggers too, thus, helping in increasing organic reach.

Social Media Posts –

83% of B2B content marketers(5) use social media ads or posts, which is a significant increase from last year. Social media allows you to post content that is creative, yet responsible. For example, one of our healthcare clients posts quizzes, app-based games, infographics for specific health-related days, webinar invites, or even messages of gratitude for healthcare professionals. Such content is shareable, helps in brand building, and creates awareness.

Videos

–


66% of marketers are using video(6) for content marketing

. Short and interesting videos can create a lasting impression. Product demos, technology videos, a video message from leadership, inside the factory videos, tutorials, etc. – choose any as per your campaign goal. Learn more about

Video

Marketing here

.

Infographics

–

The use of infographics is going up many folds. It is now the 4th most-used type of content(7) marketing

. Reading statistics, steps, and processes becomes very easy in infographics. For example, as a lab equipment manufacturer, you could create an infographic for audiences and talk about how much time, effort, and resources can be saved with this equipment via statistics.

Virtual Events/Webinars

–

Webinars are ideal for showcasing leadership and expertise in the given industry. Experts from the industry could speak on the latest technology developments, challenges, and solutions. Webinars help to build loyalty and advocacy in the customers as they portray you not just as sellers of a product but also as a front-runner for knowledge dissipation. Learn more about how we assisted a client in

executing a global virtual event

.

White Papers

–

Offering downloadable white papers is good for getting quality leads. If it is well-written, it will be referred by other bloggers, thus boosting SEO results.

Case Studies

–

As

B2B buyers spend time doing research online

, having case studies ready for them to access and learn about your capabilities will be helpful. It also helps in lead generation, as they need to furnish their basic details for downloading the case study. Crisp case studies can also be published on your website, available for anyone to read.

Take a look

.

Paid Ads/Paid Social Media Posts

–

81% of marketers use paid methods to promote content. Out of this, 77% use paid social media(8) posts, and 65% use PPC

. Paid ads and posts show faster results, as you can specifically target audiences.
The golden rule is to use different content formats, as per the channel, the audience, and the content.
Content distribution channels for B2B marketing
There are organic or paid channels for the distribution of content. However, the channels suitable for various stages of the buyer journey may be different. Take a look at the various content distribution channels.
Website Blogs

–




On your website, there is no limit on how many blogs you can publish, as long as you choose topics that audiences will find useful. Internal linking helps greatly in SEO, so try to include relevant links within the blog. Take a look at our

blogs.

Email Newsletters

–

Newsletters showcase the latest developments such as offerings, product launches, and collaborations. They can be shared with the audiences whose email addresses you already have. Include links to the product pages and landing pages wherever it seems relevant so that you can lead audiences (who are in the consideration stage) to the website pages for gathering more information.

Video Channels

–

94% of marketers say video has helped them increase their understanding(9) of the product or service

. Channels such as YouTube are meant for the distribution of video content. No matter what your product is, a video is a great way to tell your audience about it. And video links are shareable!

Professional Networking Sites

–

Sites such as LinkedIn are for professional networking and are greatly useful for B2B content marketing. 96% of B2B marketers use LinkedIn for content(10) marketing. LinkedIn leads when it comes to paid social as well as organic social media for content(11) marketing

. Try it out for thought leadership, sharing webinar invites, conference invites, videos, infographics, and short articles.

Social Media Groups

–

You can utilize groups related to particular topics on social media and share your thoughts, latest innovations, and solutions to the commonly-faced challenges.

Paid Social Media Ads

–

Out of those who use paid content promotion(12), 77% use paid social media

. There is no limit to creativity in copy and design. Even the CTA can be exciting, such that it encourages the audience to click. CTA will lead to the landing page where you can provide details of your offerings, downloadable content (such as white papers), a contact form, or links to other pages of your website.

Pay Per Click (PPC) Ads

–

Want to make your content reach your audiences faster? Try PPC. With a clear and convincing copy, your ad will encourage the target audience to click, which takes them to the landing page. Amongst the paid ads that people are most likely to click are - text ads (49%), product listing and shopping ads (31%), and video ads (16%).

Paid influencer marketing

–

This is another way of spreading your content. You could have influencers endorse your services and products. These influencers are experts in the field and with a large enough fan base.



When you have amazing products and services to offer, you need equally compelling material to talk about them, as well as the organization that is putting everything into producing them. But managing it all can be a task. That is where the content marketing tools come in handy.
One of the tools is HubSpot's all-in-one Marketing Software. It has a content marketing tool that lets you create blogs, social media posts, emails, attractive landing pages, and forms and launch them from the same place. Other popular tools include ContentCal, Loomly, and SproutSocial.
How can Ethosh help you with content marketing?
At Ethosh, we make your content visible to the world! We do this by helping you keep pace with the market demand for fresh and original content, while also making the most of the existing content. Further, our Content Marketing Service powers the whole process by distributing content across relevant channels, optimizing it for deriving maximum benefit, and promoting it so that it reaches more and more people. Be seen, be heard, be recognized!
Reference and Citation-
1. https://blog.hootsuite.com/b2b-social-media/
2. https://contentmarketinginstitute.com/2019/10/success-differentiators-b2b-research/
3. https://contentmarketinginstitute.com/wp-content/uploads/2021/10/B2B_2022_Research.pdf
4. https://blog.hubspot.com/marketing/state-of-content-marketing-infographic
5. https://blog.hootsuite.com/b2b-social-media/#:~:text=B2B%20services%20businesses%20will%20spend,use%20LinkedIn%20for%20content%20marketing
6. https://contentmarketinginstitute.com/wp-content/uploads/2021/10/B2B_2022_Research.pdf
7. https://blog.hubspot.com/marketing/visual-content-marketing-strategy
8. https://contentmarketinginstitute.com/wp-content/uploads/2021/10/B2B_2022_Research.pdf
9. https://www.wyzowl.com/video-marketing-statistics/#stat-3-4
10. https://blog.hootsuite.com/b2b-social-media/
11. https://contentmarketinginstitute.com/wp-content/uploads/2021/10/B2B_2022_Research.pdf
12. https://contentmarketinginstitute.com/wp-content/uploads/2021/10/B2B_2022_Research.pdf
Do you have any queries?
Contact us