Digital customer experiences for pharmaceutical industry
To sustain in the fast-paced technology world, digitization is a new way ahead. It brings better engagement and, most importantly, enhances communication.
I visited Soni, a doctor friend, a few months back at a government hospital. The sight of her consulting room took me 15 yrs back in memory lane. It reminded me of a large crowd of 20 to 30 medical representatives (MR) carrying huge backpacks and bulky detailing guides in their hands. They used to stand in a queue waiting patiently to meet the doctor.
Even today, the scenario hasn't changed much. The MRs still queue up but without the heavy visual aids in their hand. And instead, they carry a laptop or tab.
After finishing her heavy OPD (Out Patient Department), Soni met the MRs one by one, spending just a few minutes with them. The dedicated reps grabbed this quick opportunity and pitched everything written in the digital visual aid.
While some asked the doctors to use their new mobile applications for training, few reminded them to attend the virtual webinar of the international field expert.
I was impressed with how the representative was pitching with the help of digital content presented through a tab. So, I asked Soni how she manages meeting so many MRs and what was her take on digitization. Here is how the conversation went,
Dr. P – That digital presentation was quite insightful.


Dr. S – Yes! It's a relief when the MRs come with handy interactive digital content. It saves a lot of time and makes decision-making easier.
Dr. P – Indeed! I feel digital communication in pharma will bring a new wave of personal connections and better engagement for HCPs and patients.
Dr. S – Can't agree more! I like the ease of accessibility that the digital content provides, especially the immersive experience.

Digital content helps reps to have interactive and clear communication in a limited time. Get more information on how digitization aids sales enablement.
According to an annual study, pharma digital communications have crossed a threshold with physicians. While as per Indegene's annual(1) healthcare provider survey, for the first time in four years, the study has shown physicians scored digital communications higher than sales reps as their preferred form of communication.
Only 7% of companies have gone digital in the healthcare segment as compared to 15% in other industries. However, a Vantage Market Research(2) report states that Digital Health Market will surpass $430.52 Billion at 16.9% CAGR Growth by 2028. So, there is still a ray of hope that soon pharma sector will adopt healthcare digitization to reap benefits.
The question 'Why do physicians want more digital connections?' remains.
The answer is straightforward, even though the complex drugs require more education, the busy schedules keep physicians fully occupied, and there's not enough time for reps meetings. Digital connections via personalized emailers, webinars, mobile applications, interactive videos, and e-learnings are well accepted and preferred modes by new-age physicians.
Here is an example of a multinational pharmaceutical company that opted for digital communication to remain in touch with its HCPs to expand its reach. The HCPs' limited availability was a challenge as it interfered with face-to-face meetings and communication productivity. Find out more about how the company overcame the challenge and enhanced HCP engagement with healthcare digital content strategy.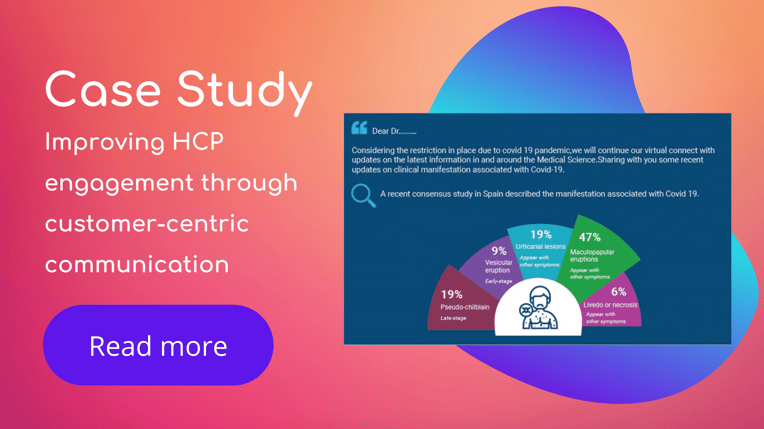 At Ethosh, we understand the need of physicians and pharma marketers, and we try to bridge the gap by providing innovative digital solutions for effective and personalized communication.
HCPs prefer digital solutions because they see them as personalized and effective learning tools. Considering this, we design customized healthcare digital solutions enabling pharma marketers to deliver a practical and desirable message to physicians. The personalized emailers addressing the physician's need help improve engagement, while an AR application help physicians have effective patient communication for early disease awareness. The virtual webinars are a well-appreciated solution as they help the physician keep updated about the latest advances in the respective therapy area.
From startups to pharma giants, everyone is betting on immersive technology. According to a new report by Grand View Research, Inc., the VR (virtual reality) and AR (augmented reality) in the healthcare market will reach USD 9.5 billion by 2028. If you are a pharma company and planning a healthcare digital transformation, you must consider investing in this technology.
Let's understand, with an example, the role of digital healthcare content with a use case of AR. An ophthalmology-focused pharmaceutical company wanted to create awareness of glaucoma and gain the confidence of HCPs and patients. We studied the situation and tackled the challenge by developing an interactive AR app for iOS and Android. The app was designed to create greater awareness about glaucoma to provide comprehensive patient education and provide timelier diagnoses. Read the detailed case study.


Watch the video to understand how augmented reality is increasing awareness among patients.

Being a physician myself and experiencing both sides of the industry, I feel we should entirely rely on digital pharmaceutical communication. It obviously offers more practical and personalized solutions, but more importantly, it is the choice of the physicians.
Reference and Citation -
1. Gminsights- https://www.gminsights.com/industry-analysis/healthcare-gamification-market#:~:text=Healthcare%20Gamification%20Market%20size%20was,14.6%25%20between%202021%20and%202027

2. Finance online- https://financesonline.com/gamification-statistics/
Do you have any queries?
Contact us