10 Awesome use cases of AR to benefit the healthcare industry
Published by
Ethosh
on Mar 29, 2022.
From gaming to education to 3D scans to surgery and patient care, the use of augmented reality has grown in leaps, and it's now revolutionizing the world of healthcare.
Augmented Reality (AR) has made tremendous strides in the medical device industry and has proven to be an essential piece of the puzzle in healthcare. We at Ethosh have worked closely with healthcare organizations delivering immersive technology solutions such as AR and VR and have realized the true potential of this technology. Below is the overview of AR and its use cases to help you understand the potential of this technology that facilitates sales & marketing, learning, operations & practice aspects of the healthcare business.
10 compelling use cases of AR
1. Lab technology, biotechnology & life sciences  
Lab technology, biotechnology & life sciences companies can aid researchers, scientists, and technologists with virtual product experiences. It will enable them to explore product functionality, technology, and its benefits. Also, it will help in delivering improved user engagement & higher knowledge retention.
A life sciences company that develops solutions launched a new product with innovative technology. It made spatial profiling of gene expression data possible with AR. They desired to create an interactive experience to let the users explore the product to the optimum. Ethosh, with its expertise, designed an immersive experience to educate regarding the functionality of the product. This allows users to take up the product in a virtual lab to understand the technology and its game-changing benefits.

2. HCPs and Patients education on pharmaceutical products 
An ophthalmology-focused pharmaceutical company wanted to expand its reach and gain the confidence of HCPs and patients. For this, Ethosh designed an interactive AR app for iOS and Android after extensive research and a solid understanding of the attitudes and preferences of the HCPs and patients. Doctors used the app as a visual aid to create greater awareness about glaucoma. Also, to provide comprehensive patient education and timelier diagnoses. The effectiveness of the AR platform had better brand recall too.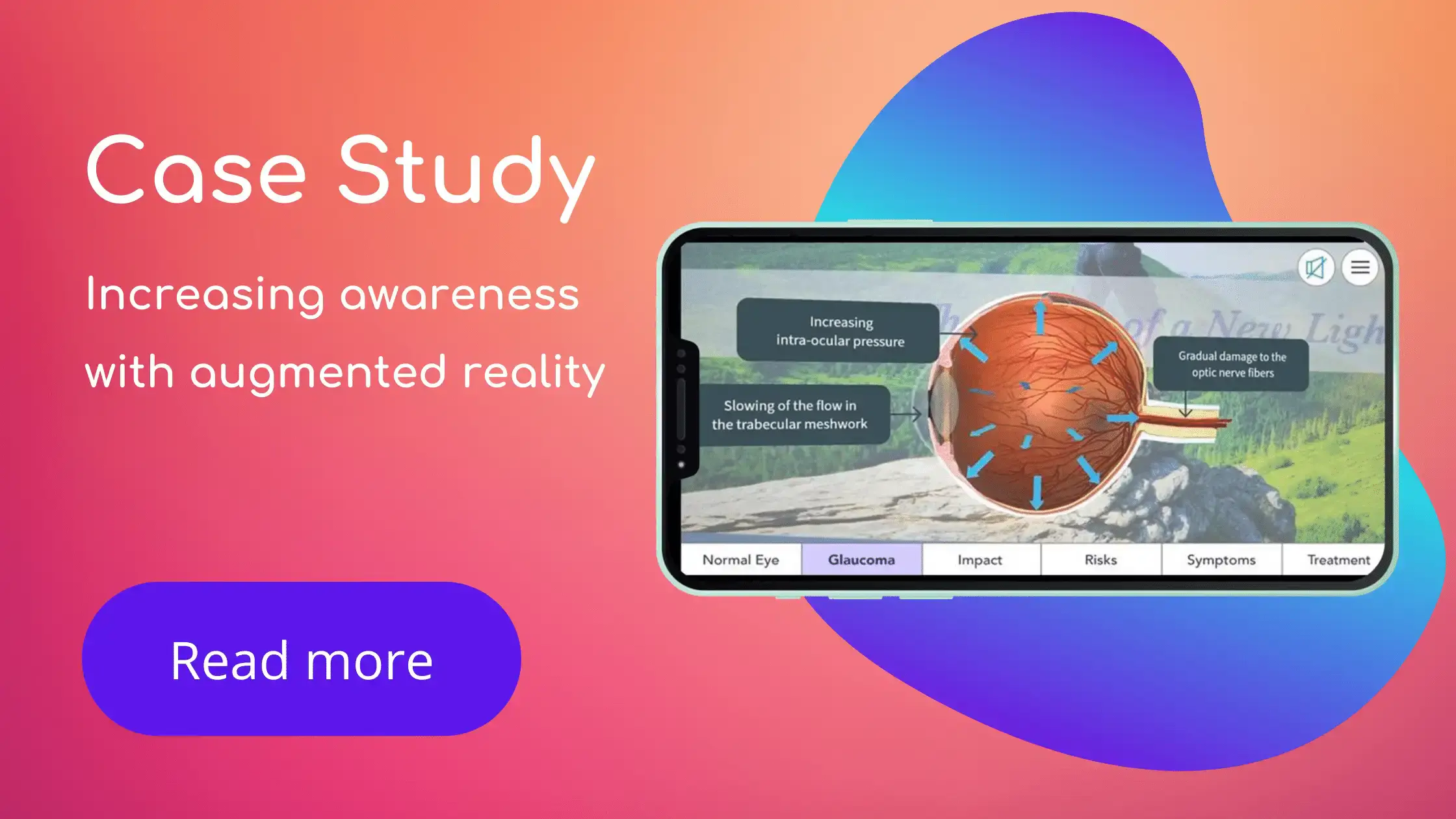 3. AR during Surgery 
June 2020 was a historic time for medical research. John Hopkins surgeons performed AR-based surgeries for the first time on living patients. One of the surgeries was for spinal fusion, and the other was to remove a cancerous tumor from the spine known as chordoma. The surgeries were an absolute success. And the patients are recovering well too.
AR surgeries provide doctors and medical practitioners with x-ray vision to locate organs on a patient's body. Doctors will no longer have to look at different monitors to perform surgery, saving them time and focusing on the patient.
4. For medical education 
Today, Medical institutions worldwide use immersive technologies. AR, in particular, is used to educate upcoming medical students on various complex medical procedures. It is making learning easier through its real-life x-ray visions of the human anatomy.
A 2017 article by Alyssa Walker(2) for Keystone Healthcare Studies highlights how AR provides a better aspect of human healthcare to upcoming medical students. According to her, AR offers a platform for risk-free practice, better symptom descriptions, improved teaching methods, and patient engagement.
5. To support medical practices 
AR applications have provided easy adoption of medical devices for medical practitioners, which has simplified medical processes. Med Page Today(3) published an article on emerging augmented reality applications. One of the applications is the AccuVein that allows doctors and nurses to analyze veins more accurately before applying injections to the patient. It guarantees pain reduction and patient satisfaction with fewer escalations.
Another application that has helped patients worldwide is Dorothy. It is the very first AR-powered assistant for people who suffer from memory loss or problems. The application acts as a medium of reminding them about the daily task and guides them around the house using AR technology.
6. Telemedicine 
Telemedicine, in simple terms, is the use of telecommunication and IT software for the timely delivery of medical services. Telemedicine promises better and faster medical decisions. Nomadeec, a medical device manufacturing company that focuses on telemedicine demonstrated how they use Microsoft HoloLens to treat patients immediately.
The Telemedicine software allows practitioners to do activities like patient assessment, check vitals through a complete AR-based model, conduct necessary tests, and videoconferencing with experts through teleconsultation. Telemedicine can be a gamechanger in case of emergency medical solutions as the software allows practitioners to make instant decisions which is enough to save a patient's life.
7. Proctoring patients using AR based telehealth 
According to the Association for Computing Machinery (ACM) digital library, AR applications are allow doctors to supervise their patients without physical consultations. Telehealth is responsible to for strengthening bonds and trust between doctors and patients. Protocols of medical consultation have changed since the inception of Covid 19, and the most crucial factor determining patient safety is to avoid physical contact. Tools like Microsoft HoloLens are providing great significant assistance to medical practitioners. It is not only a new set of eyes and ears but also can help to connect virtually with the patients to assist and consult them even though they are miles away.
In Taiwan, Ten Chan General Hospital uses Microsoft HoloLens to make house calls to serve older adults and people with disabilities through virtual consultations.
8. Virtual collaboration between doctors  
This example may seem inappropriate, but there was an urgent need for spine surgery inside the bank in the web series Money Heist. The team of robbers was consulting a doctor in Southeast Asia from Spain to save their friend. The doctor provided his expertise on the surgery through the monitor by using the necessary AR diagrams to explain the precise incisions on the human body. Because of this, the team was successful in conducting the surgery.
This example may be from the fiction world, but this concept has started to pick pace in real life too. Two experts can now talk virtually, giving their expertise on complex surgeries that no longer require the patient to travel or the surgeon.
9. In surgical practices
AR has played a significant role in perfecting surgical training across the globe. Doctors can use AR-based apps to practice complex surgery on 3D models and save money in getting dummy human models, which tend to be expensive. The AR-based medical training allows doctors to track procedures and figure out mistakes every step of the way.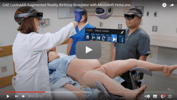 10. For medical device adoption
Medical device manufacturers can use AR to demonstrate how the device would fit and operate in a specific space or location on the customer site. AR makes it possible to eliminate physical transportation products to the customer location, saving time and money, resulting in an optimized sales process and higher customer satisfaction. It ultimately helps in better adoption of the medical devices for the end-users.


How has augmented reality changed the landscape of the healthcare industry?



If the world knew a few years back that medical institutions today will be using immersive technologies such as AR and VR to solve healthcare problems, chances are that people would have considered it as a myth. It is fascinating to see how advancement in technology has evolved the modern healthcare industry.
Let's take general surgery as an example; 20 years back, doctors and medical practitioners had no resources to practice surgery. They had to rely on their knowledge and skills in Human Anatomy to execute the surgery. Today, doctors are using immersive technology such as AR and VR to practice surgery before they do the actual surgery on the patient.
A recent paper published by Matthew Pears(7) and Stathis Konstantinidis says that "Immersive technologies can replicate these processes without the need for physical equipment and simplify the requirements for students and medical practitioners."
Conor Stewart(8), a research expert covering health and pharmaceuticals, published a report in 2018 highlighting that the global healthcare immersive technologies market will rise to 10 billion US Dollars by 2025 from 1.08 billion US Dollars.
Every year, the Med-Tech sector is growing at a significant pace. And with the inception of immersive technology, the medical device industry is making remarkable advances in the market. It's bringing along new types of equipment as easy-going solutions to health problems. Also, helping early diagnosis of serious ailments, allowing people to live healthier lifestyles.
With AR, understanding complex concepts is becoming simpler for doctors, healthcare practitioners, and patients. They are getting their fair share of knowledge about these concepts.

Augmented reality has changed the healthcare industry landscape, and we at Ethosh would like to give a little perspective on how it has helped developed medical device manufacturers. We have constantly been working on uplifting medical technologies, life sciences, lab technologies, and biotechnologies organizations and institutes by providing digital experiences.
AR has provided the healthcare industry with the following aspects:
Efficiency -

AR can optimize operations time by augmenting real-world information, making it available when required. This allows healthcare practitioners to focus on their primary goals & responsibilities.

Learning opportunities -

The introduction of AR in the medical device industry has allowed hands-on training and education of doctors, healthcare practitioners, medical students, and patients. It has made complex medical concepts easier to learn and grasp.

Standardization

-

AR technology allows replication in operations at scale, allowing an organization or institute to be economical and consistent at the same time.
How is augmented reality different from virtual reality?
A lot of people, in general, have been facing the problem of differentiating between these two segments of immersive technology. But a Forbes(9) article written by Bernard Marr has given a clear understanding of both topics.
He explains, "Virtual Reality is a fully immersive experience where a user leaves the real-world environment behind to enter an interactive digital environment via VR headsets. In comparison, Augmented Reality is an experience where the superimposition of virtual objects occurs in the real-world environment via smartphones, tablets, heads-up displays, or AR glasses."
How can Ethosh help you succeed in delivering AR roles?
Ethosh Digital has been providing digital experiences in Augmented Reality and other digital customer experiences for more than a decade now. We leverage augmented reality experiences into real-life scenarios, which help our customers identify and solve problems faster. Our combined expertise in AR strategy, design, development, training, and support is the right mix that you are looking for in a good AR agency.
Reference and Citation-
1. Hopkins surgery-https://www.hopkinsmedicine.org/news/articles/johns-hopkins-performs-its-first-augmented-reality-surgeries-in-patients
2. Article by Alyssa Walker- https://www.healthcarestudies.com/article/What-Can-Augmented-Reality-Bring-to-Medical-Students/
3. Med Page Today- https://www.medpagetoday.com/practicemanagement/informationtechnology/59072
4. Dorothy- https://dorothy.app/
5. Telemedicine research- https://biomedical-engineering-online.biomedcentral.com/articles/10.1186/1475-925X-13-153#ref-CR1
5. Telehealth- https://dl.acm.org/doi/abs/10.1145/3311790.3399629
6. Matthew Pears and Stathis Konstantinidis paper- file:///C:/Users/vishr/Downloads/Pears-Konstantinidis2021_Article_TheFutureOfImmersiveTechnology12.pdf
7. Conor Stewart research- https://www.statista.com/statistics/1033162/healthcare-ar-and-vr-market-forecast-worldwide-by-region/
8. Forbes definition- https://www.forbes.com/sites/bernardmarr/2019/07/19/the-important-difference-between-virtual-reality-augmented-reality-and-mixed-reality/?sh=48840f435d34-
9. Virtual Collaboration between Doctors- Mount Sinai Health System

Do you have any queries?
Contact us