Virtual reality aids decision-making in critical healthcare procedures
Published by
Ethosh
on Mar 24, 2022.
A game-changing VR medical training has answers.
Imagine surgeons are performing complex surgery on the athlete. The situation is tense. The patient starts losing breath. The leading surgeon had few seconds to make the right decision. She thinks for few seconds. And instructs her fellow team member to give the patient an injection. This injection brings him back to a stable condition. All goes well. Thanks to the 'cognitive skills' of the surgeon.
In this scenario, the surgeon's ability to think in a tense situation and act saved a life. Yes, split-second, precise decisions by medical professionals save more lives than technical skills.
VR can aid lifesaving by making it possible for medical personnel to hone their cognitive skills in a safe virtual setting to develop the decisive muscle memory critical to handle a real emergency.
Here are few pointers explaining VR and its crucial role in healthcare.
Cognitive skills and healthcare practice - why it matters?
Various studies and factual research cite cognitive skills as one of the critical skills required by healthcare professionals. A research paper published by Dr. Fokkie Cnossen states, "Highly developed motoring skills are important, but success in surgery is more related to cognitive factors. Its skills such as perceptual skill and decision making that aids surgical performance".
Similarly, Dr. Gurpreet Dhaliwal, MD & professor at the University of California at San Francisco, believes that "Cognitive strategies take good physicians to greatness. The training on cognitive skills must begin at a very early stage in medical practice." Another paper published by Bobby and Alpa Desai says that "the medical field poses significant cognitive challenges for a new learner and may be fraught with error due to multiple factors".
It is evident that healthcare professionals face many situations daily. It puts them under the radar for their best cognitive abilities. It is their decisive skills that can make a difference between life and death.
How can

Virtual Reality help in our cognitive abilities?
What does science say about the use of VR in developing cognitive abilities? Many publications, including one in 2006 by Jennifer Tichon(1) touts the use of VR in cognitive development. Also, a recent review in PubMed(2) highlighted the use of VR. It mentioned significant improvement in neurological patients in many cognitive domains.
As per the report 'Train your brain'(3) published by Harvard Health Publication, practicing new, challenging and complex activities help in building and developing cognitive skills. Virtual Reality covers all the aspects mentioned in the article. VR allows users to submerge into their familiar environment, e.g., an emergency room. It enables users to apply their cognitive skills to complex situations like someone with a heart attack. And it offers users to practice as many times as they want without the fear and risk of failure. Advanced VR-based training solutions provide feedback and analysis of every action. This feedback will help user to determine their development.
Virtual-Reality based training

to improve cognitive skills in medical practice -

R

eal-life examples
The National Center for Biotechnology Information (NCBI)(4) asserts that 'medical education is changing. Simulation is becoming a cornerstone of clinical training. Virtual Reality is emerging as a new method of delivering simulation. VR offers benefits for learners and educators to deliver cost-effective, repeatable, standardized clinical training on demand. A large body of evidence supports VR simulation in all industries, including healthcare.'
'VR-based training is a powerful tool for distinct learning objectives with simulated clinical experiences. The future of VR lies in its ongoing integration into the curriculum, especially in healthcare practice. Also, it will facilitate quality inter-professional learning at scale, independent of geography. And transform how we deliver training to the healthcare professionals of the future.'
Here's one real-life application of VR-based training designed by Ethosh for Gynecologists' outreach and awareness. The company crafted an innovative product to prevent accidental injuries to the ureters during lower abdominal laparoscopic gynecological surgeries. However, a barrier to its adoption was the limited training of gynecologists in performing cystoscopies.
It was essential to develop confidence in the gynecologists. Giving them an experience of the steps of the procedure was the approach. Doctors, in collaboration with the company, devised an immersive and interactive VR experience. Here, gynecologists could practice the surgical procedure many times. That's how VR-based learning experience motivated them to learn in real-time, and in turn, increase patient safety.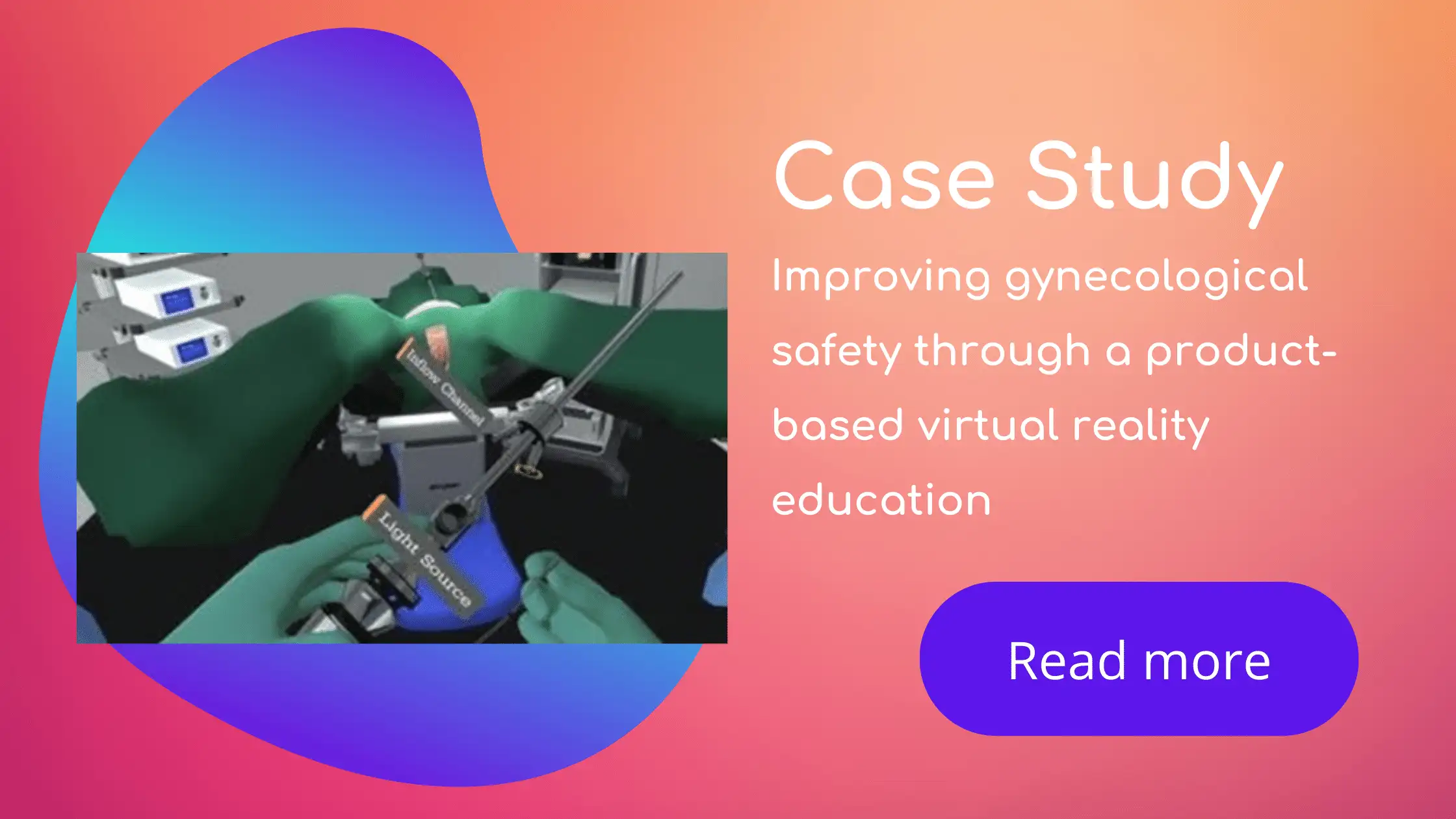 Another challenge resolved by Ethosh was at a tertiary hospital. It lacked proper hand hygiene discipline. Unless they saw bacterial contamination with their own eyes, the impact of hand hygiene could not be emphasized enough. There was a need for a unique training strategy to induce a behavior change and strict compliance with the hand hygiene practices. Hence, a virtual reality-based gamified learning was designed to visually impression bacterial cross-contamination while working in a real-life situation.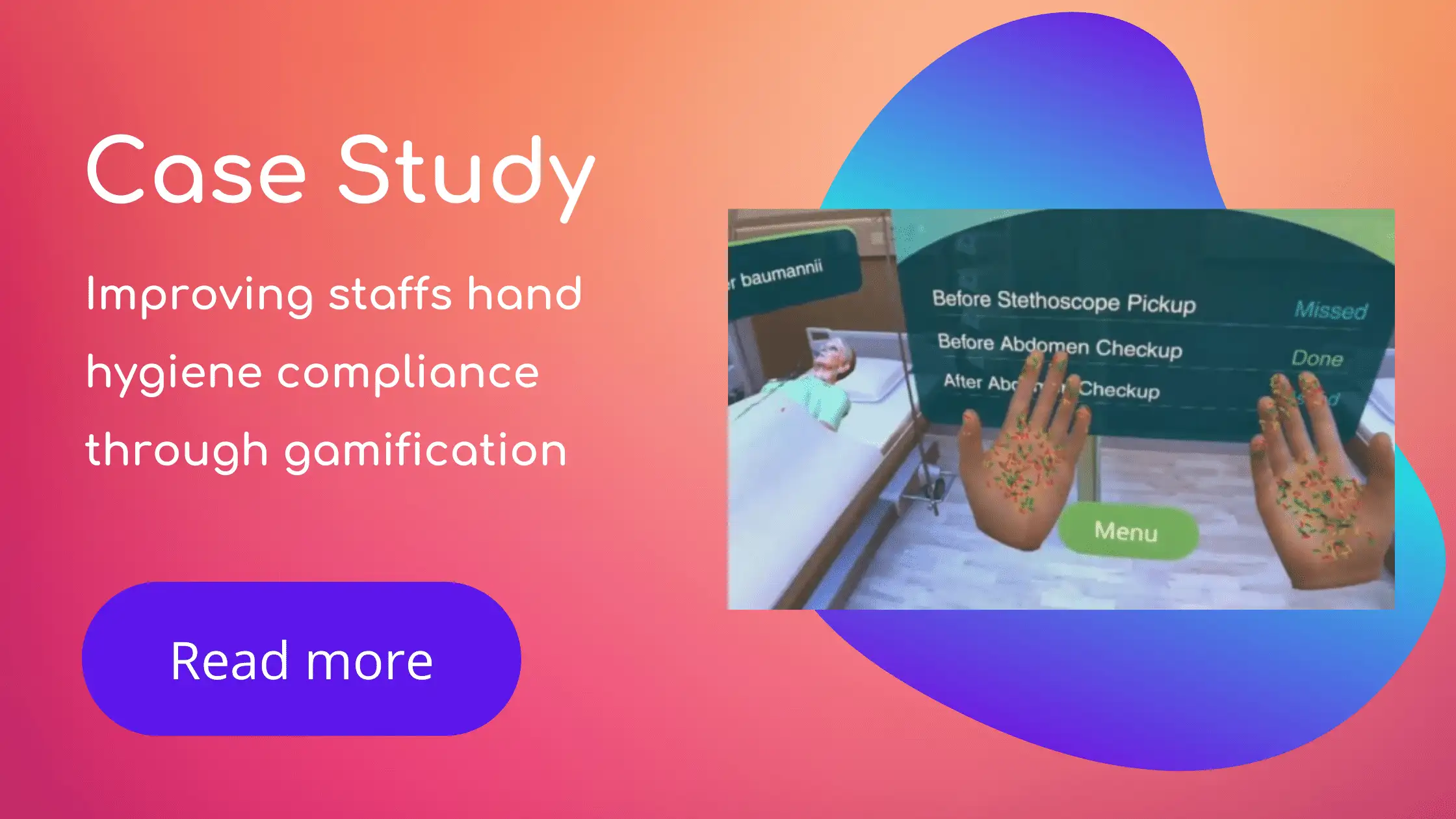 What is the potential of VR-based training in cognitive skills development?
An abstract from ResearchGate(5) claims VR to have dramatic improvements in global cognition and neural efficiency in the elderly. It can aid in optimizing both the performance and the result. Also, a paper by Gerda Andringa(6), Department of Science, University College Roosevelt, published on Karger, states, "VR is immersive and enables the perception and expression of emotions, motor behaviors, and multiple senses."
VR can set your heart racing with a near-to-life experience. It is Reality, Virtual Reality. With VR, you can live, experience, and perform the act in real-time. Plus, practicing on VR provides considerable room for trial and error, too, without causing any actual harm to life. Virtual Reality in healthcare comes as a boon to the industry. VR-based training can relieve the load during an actual medical procedure. It can also help to boost confidence in healthcare practitioners.
This new healthcare & medical training device embedded with the latest technology cuts a practical tool, especially for the surgeons. This is an approach learning & training leaders in the healthcare industry should look for in 2021.
What role technology and content companies like Ethosh can play?
Ethosh blends the real and the virtual to communicate challenging concepts. It uses extensive research to bridge the gap in Reality. 30% of our revenue goes into developing innovative and creative solutions. Combining our extensive experience, digital capabilities, focus on repeatability and reproducibility, and zero tolerance on quality, we have established our Digital Experience Approach.
From life sciences to the products of modern manufacturing. From strategy to execution. We use the latest digital tools and platforms to help you communicate, market, instruct and inform. Applying Design thinking, we craft user-focused experience designs that are relevant, accurate, simplify complexities, and stimulate, engage, and inspire customers. Ethosh works with global life sciences and manufacturing companies and has offices in North America, Europe, and India.
Reference and Citation -
Do you have any queries?
Contact us