Steps for an omni-channel digital experience for product marketing
Omnichannel digital product experiences are a sought-after approach for interactive, intuitive, experiential, and personalized ways to consistently engage with users through marketing efforts.
Omnichannel digital product experiences are defined as an experience that provides potential customers with a seamless brand experience across all digital and physical channels, from desktop and mobile phones to events and exhibitions.

"Instead of thinking in terms of a desktop experience, mobile experience, tablet experience, and smart device experience," Hubspot says(1), "marketers must think in terms of a single, holistic experience across all channels."


Here, we explore the concept of omnichannel product marketing. It highlights how companies can use omnichannel digital services to generate unified product experiences, improve engagements, and returns on their marketing investments.
'Empathy' and 'Context' for omni-channel digital product experiences
Omnichannel product experience personalizes the customer journey based on a thorough understanding of the behavioral patterns of customers based on empathy and customer trust.
However, empathy is more than merely connecting with your customers on an emotional level. It's not simply about coming up with tactics to keep your customers engaged with your content. It's all about delivering people the experiences they want – experiences that are personalized experiences to their own wants and tastes.

Finally, it's an attitude that is beneficial to the sustainability of your brand because it focuses on the requirements of your prospects and customers.

How does knowing the client's context help to improve the overall customer experience? And why is context so critical when it comes to offering appropriate product marketing experiences?

Allow your team to answer the following questions before generating product marketing material and experiences:
Is this anything that the customer cares about?

What is the most effective way to convey this message?
The answers will vary depending on your product, customer profile, and customer behavior.
Engagement is influenced by context. Sharing the right digital content experiences with your customers at the right time and through the right channel, and customizing it to mobile and web (devices) using interactive or immersive technologies will always lead to effective engagement.
Omni-channel is the way to go when there is a lot of noise
We are all constantly changing contexts. We ordered meals, checked our stock portfolio, and researched a TV show that a colleague recommended before returning to a slack channel to follow up on anything business-related.


Customers must be able to switch between channels and devices at will while still having continuous access to your brand. Otherwise, you will be wasting opportunities.

Customers will be delighted and motivated to return if you can tie it all together in a holistic customer experience.
What exactly is omni-channel digital experience for product marketing?
Omnichannel digital product experiences are a unified approach to integrating branding and product experience strategies across the various digital channels which your customers interact with.

If a user sees your banner ad and clicks through to your product website or app, the experience should be seamless and feel like it is all coming from the same brand.
The primary focus of omnichannel digital experiences for product marketing is on:
A customer-centric contextual product experience
Consistent cross-channel branding
A thorough understanding of the customer journey to create personalized, interest-based audio-visual, interactive or immersive content.
An omnichannel product experience strategy places the customers at the center of all marketing channels. It ensures that your customers experience a unified value proposition of your product regardless of where they connect with your brand digitally.

With technological advancements moving at breakneck speed, businesses must now engage their customers across multiple digital touchpoints for an omnichannel product experience.
Among these experiences some of the marketing channels are:
Website and landing page desktop, mobile, and tablet versions
A mobile application
Virtual or hybrid Events
Virtual Reality (VR) or the Metaverse
Augmented Reality (AR)
Social media platforms such as LinkedIn, Facebook, Twitter, and Instagram, among others.
The goal of omnichannel digital experiences for product marketing is to ensure that your brand is instantly recognizable to your customers with consistency in product messaging, engagement experiences, and visuals no matter where they interact.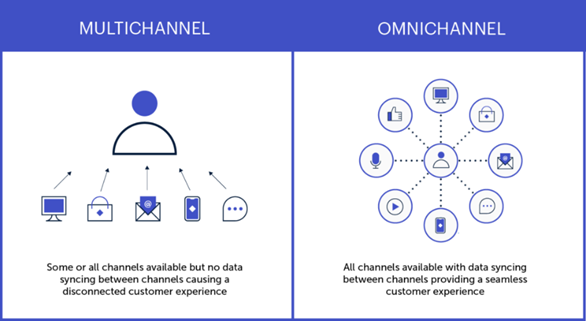 Source: Medallia Zingle
4 steps to developing an omni-channel digital experience strategy for product marketing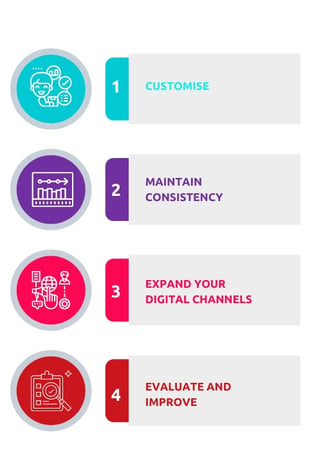 Generic experiences for all prospects and customers are just as bad as spam. Segmentation based on personas, location, and other factors improves the relevance and effectiveness of your digital product experiences.
Step 2: Maintain Consistency
The goal of unifying the user experience across digital channels is to keep your communications and campaigns aligned while increasing user engagement. However, you must go beyond text copy to provide the kind of consistency that builds trust with users. This includes your UX, design assets, website, emails, and all customer-facing material.
Step 3: Expand Your Digital Channels
Prepare to engage users regardless of where their customer journey begins or ends. Allow them to convert at any stage and on any device.
In fact, according to a recent Harvard Business Review study(2) of 46,000 consumers, each additional channel used increases customer spending. Customers who used four or more channels spent 9% more than those who only used one.
Step 4: Evaluate and Improve
Measuring the success of your omnichannel digital product experiences requires the ability to track the necessary metrics. But that will not work unless all your marketing tools work together.
With the right marketing automation solution, you can eliminate gaps and ensure data integrity. When you put all the pieces together, you get a complete picture of the success of the omnichannel product experience strategy.
HubSpot CRM for omni-channel experiences
HubSpot's complete CRM platform is an all-in-one marketing automation tool. It is functional and adaptable to your company's requirements. Whether your goal is to increase sales, increase leads, improve customer service, or build a website, HubSpot CRM can do it all — across every platform that can be well integrated to create omnichannel product experiences with the help of website and landing page desktop, mobile, and tablet versions, A mobile application, Virtual or hybrid Events, Virtual Reality (VR) or the Metaverse, Augmented Reality (AR), Social media platforms such as LinkedIn, Facebook, Twitter, and Instagram, among others, YouTube and other video-sharing websites, and so on.
How can Ethosh help with creating impactful omni-channel marketing experiences?
The new-age content formats Ethosh can deliver at scale, speed, and cost advantage to differentiate your brand engagement across buyers' journeys are marketing automation, high-quality animated and live-action video, AR/VR experiences, virtual and hybrid events, and more. Also, interactive digital content like infographics, value calculators, dynamic websites, online quizzes and games, and 3D immersive content.
Ethosh combines technological components with our creative and storytelling minds to create a product experience that your customers will remember. The basic Omni-channel experience is delivered in an agile, iterative process and takes 8 to 12 weeks to complete. Ethosh's Managed Services help businesses adopt 3D visual and interactive technologies to deliver omni-channel digital product experiences on a large scale and at a low cost.
Reference and Citation-
Hubspot-

h

ttps://blog.hubspot.com/service/omnichannelexperience__hstc=96753472.a0381f74324ead1fa32fd831ad666b22.1649668121366.1649668121366.1649668121366.1&__hssc=96753472.9.1649668121367&__hsfp=4193594878
Do you have any queries?
Contact us